Composite Disc Couplings
Metal disc couplings, which can be effective for general applications, are not designed to handle the large degrees of misalignment present in many applications. They are also subject to fatigue in high demanding motion profiles that require repetitive stopping, reversing, and indexing. Under these most strenuous operating conditions, you need a coupling that delivers high performance and high durability.
Zero Backlash Composite Disc Couplings (CD® Couplings) from Zero-Max were designed to be a higher performance option necessary in these most demanding operating conditions that involve repetitive stopping, reversing, indexing, and misalignment, without sacrificing on performance. Zero-max created the patented composite disc pack to provide the versatility and performance that is needed above and beyond metal disc coupling's abilities.
The CD Coupling allows machines to maximize output and performance in the most demanding applications.
Choose a Composite Disc Coupling Design for Your Application
Single-flex composite disc couplings are compact and accommodate high angular misalignment along with limited parallel misalignment. These couplings provide an effective and compact solution in applications where most alternatives would require a double flex coupling.
Double-flex composite disc couplings have a longer overall length to accommodate very high angular and parallel misalignment, providing double the misalignment capacity of some metal disc couplings
Floating shaft couplings accommodate misalignment in shafts positioned a larger distance apart, making them ideal for coupling large spans between motion components.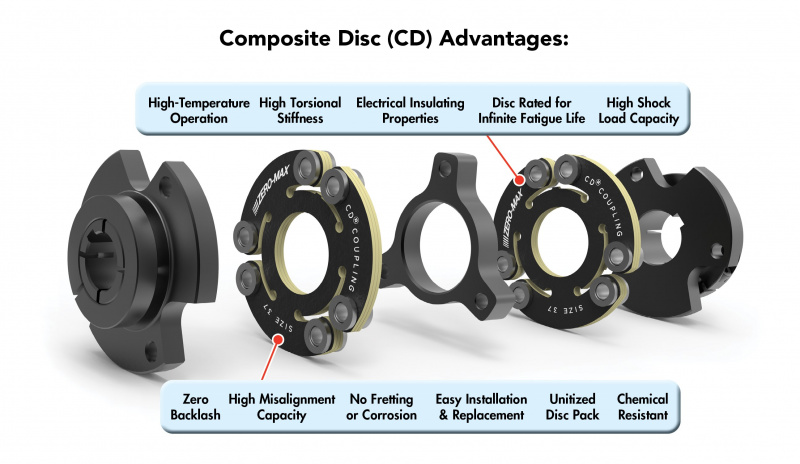 Zero-Backlash CD Couplings for Demanding Applications
Zero-Max launched its first high-performance composite disc coupling design in 1989. Our CD Couplings accommodate high speeds, large shaft misalignment, and eliminate fatigue and fretting often seen in metal disc couplings. You get the benefit of zero backlash operation, high torsional stiffness, and maintenance free operation in a compact design.

Engineered for the most demanding power transmission applications, our composite disc couplings are available in single-disc, double-disc, floating shaft, and custom models. Our advanced design provides the following features and benefits:
3 degrees of angular misalignment: three times the misalignment capacity as metal disc couplings
Longer life than metal disc couplings: designed and rated for infinite fatigue life; no disc failures due to fretting
Non-conductive and chemical resistant disc material: excellent electrical insulating and anti-corrosion properties
Unitized disc pack: no loose bushings or discs for easy installation and replacement, even in the field
Broad operational temperature range: -70° to 250°F (-57° to 121°C)
Laser cut discs: precision cutting process can be modified for specialized and custom designs that require higher torque, torsional stiffness, or misalignment capabilities
Black oxide coatings on steel hubs and black anodizing on aluminum hubs inhibit corrosion in normal industrial atmospheres. Nickel plated and stainless-steel models also available.
Precision bore in disc bushings allows for a tight fit between shoulder bolt and bushings, keeping the assembly concentric and ensuring smooth high-speed operation
Precision machined hubs provide further concentricity for quiet operation
RoHS compliant: manufactured from RoHS-compliant materials and contain no banned substances
High-speed composite disc couplings from Zero-Max tackle your most demanding application and misalignment challenges. We can also design and manufacture a custom flexible shaft coupling to handle your unique application and performance specifications.
Learn how we
developed a customized CD coupling
to help a customer requiring extra parallel misalignment capacity in a restricted space.
Proven Performance in Challenging Scenarios
Zero-Max composite disc couplings are ideal for high precision applications including packaging machines, pick and place systems, printing machinery, machine tools and most systems using servo motors needing to address misalignment. Our high torsional stiffness, zero-backlash composite disc couplings have been used in:
Dynamometers with 4,000 in-lbs. of continuous torque and 8,000 in-lbs. of peak torque at 2,500 RPM on a 57" DBSE
Servo-driven print rollsrequiring up to 542,000 in-lbs./degree of torsional stiffness; coupling yields 0.0034" circumferential windup on 21" diameter print roll at 1,150 Nm rated torque
Servo-driven die-cut and anvil rollswith special adaptors to accommodate a flanged output gearbox; composite disc coupling rated for high torsional stiffness
Cut-off wheelsfor cutting lead strips in lead-acid battery manufacturing; requires heavy acceleration/deceleration due to electronic cam action
Industrial parts washers, where the floating shaft couplingdesign allows motors to be remotely mounted away from wash/spray conditions; nickel plating and stainless steel hardware provide corrosion resistance
Dough mixers for commercial bakingas replacements for grid-style couplings which could not withstand the stresses of the mixing process
and countless other demanding applications
Innovative Composite Disc Coupling Technology
Our next-generation composite disc couplings allow users to transmit high horsepower in a small envelope. These high-speed flexible shaft couplings are ideal for cyclic applications where speed and repeatable accuracy are critical for keeping systems going 24 hours a day, 7 days a week.

The RoHS-compliant design is rugged enough to withstand the punishment and stress of servomotor applications. Other brands of couplings may have high torsional stiffness specifications; however, they can be too brittle to withstand the punishment of high-speed reversing applications, especially where misalignment is present.
High torsional stiffness and high dynamic load capacity, ensuring reliable machine operation
Precise positioning under high speed reversing loads without fatigue, for reliable 24/7 operation
A unique design for superior misalignment capacity and long operational life
Superior shaft engagement via a clamp style hub design
Excellent chemical and moisture resistance
Maintenance-free in hostile environments
Solve Your Misalignment Challenges with Our Flexible CD Couplings
Zero-Max is the leader in composite disc coupling technology. Browse the product categories above to find your ideal misalignment CD couplings or view our product catalogs for a comprehensive overview of all product specifications.

Find your nearest sales representative to order, request a quote, or contact us for the composite disc coupling(s) your application requires.

Choose an industry below to explore the different uses and benefits of Zero-Max's high-performance Composite Disc Couplings.