Overhung Load Adaptors for Mobile Hydraulic Motors
Overhung Load Adaptors (OHLA) help prevent breakdowns and extend the lifespan of mobile hydraulic systems. OHLAs prevent costly damage and downtime by isolating external loads from hydraulic motors and pumps. They also seal out grease and grime to protect motor components and prevent hydraulic fluid contamination. Zero-Max OHLAs are field-proven for use on belt/chain drives, fan drives, recycling equipment, mixer units, industrial conveyor drives, and various other hydraulic motor applications in the toughest environments.
Provides support for radial and axial loads resulting in extended life of hydraulic motors and pumps
Seals out dirt, grime, and other contaminants
Prevents contamination of hydraulic fluid in harsh environments
Provides solid, permanent mounting surface
Permits the removal of hydraulic motors for servicing without disturbing driven gears, pulleys, or sprockets
Zero Max Overhung Load Adaptor Features
The first complete line of SAE "A" through SAE "F" mount Overhung Load Adaptors was designed by Zero-Max and set the industry standard for OHLA design. From the smallest
Model 200 SAE "A" mount
to the largest
Model 1500 SAE "F" mount
, our overhung load adapters are designed for high performance and provide the following features:
A, B, C, D, E and F SAE mount options and a non-SAE mount options
Attractively painted, rugged cast iron housings
130,000 PSI stress-proof steel shafts
Heat-treated steel shaft options
Ball, Tapered, and Spherical roller bearing options
A variety of shaft options, including spline shafts
Face or foot-mounted models with 2- or 4-bolt mounting options
Input bore sizes from 5/8-in. to 3-1/2-in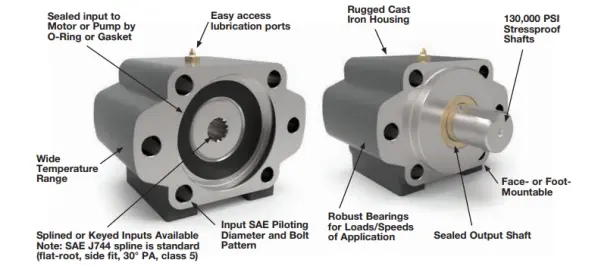 Our in-stock standard load adaptors are available for immediate shipment.
Request a quote
for any Overhung Load Adaptor options listed below, or
contact us
to discuss your
custom requirements
.
Custom Overhead Load Adaptors
Whether you're in the market for a standard SAE mount or have special mounting requirements, Zero-Max can design a solution for you. We offer many OHLA custom options and can create a special design for your specific application requirements. Well over half of the OHLAs that Zero-Max produces are custom designs and we do them for any quantity that is needed (from 1 to 100s). We offer various custom solutions for many industries and applications, including agriculture, road construction, and forestry equipment.

You can also check out our NEW Extra-Duty Overhung Load Adaptor series!

Overhung Load Adaptor Applications
Zero-Max precision OHLA equipment is designed and engineered to protect hydraulic motors and pumps, serving the function of a bearing block for high-intensity applications such as timing belts, v-belts, fan drives, and any system subject to axial and/or radial loads within the following industries:
Forestry
Energy/Fracking
Agriculture
Mining
Aggregate

Road Construction
Marine
Industrial Machinery
Mobile Hydraulic Systems
Contact Zero-Max to Discuss Your Overhung Load Adaptor Requirements Today
For more information on custom or standard overhung load adapters with SAE mounts, contact us or click here to find your local sales representative.

With several SAE and non-SAE models to choose from, we have an Overhung Load Adaptor to suit your needs. Choose an industry below to explore application-specific uses and benefits.