Zero-Max News
Torque Transducers and Test Machinery Utilize CD® Couplings from Zero-Max
Jun 08, 2022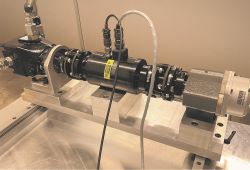 Plymouth, Minnesota:
Torque Transducers and Test Machinery experience extreme demands including high torque loads and high operating speeds which cause stress on connected components. To assure these systems generate accurate test data when experiencing these conditions, system designers specify
CD Couplings
.
Utilizing Zero-Max's proprietary Composite Disc-Pack (CD), CD Couplings are unique in design and provide the ideal combination of operating characteristics that improve the accuracy of torque measurements. The key characteristics of the Composite Disc design are: (1) high torque capacity, (2) high torsional stiffness, and
(3) low reaction loads under misalignment. Following are the coupling's operating features:


CD Couplings provide the high torque capacity needed for torque transducers. They can be sized to the required torque for a specific test. Or the coupling can be sized to the overload capacity of the torque transducer so the transducer and test equipment can be re-purposed for other testing at a later date.
CD Couplings provide the needed high torsional stiffness so that accurate position and torque readings can be obtained. High torsional stiffness is especially important for tests that involve rapid speed and/or direction changes.
CD Couplings include a unique open-arm disc pack design that increases misalignment capacity and minimizes any reaction loads imparted to the torque transducer and connected test components under misalignment. Low reaction loads are important since torque transducers, by design, have reaction load limitations. This coupling feature ensures accurate and precise test readings.
To handle high test speed applications and avoid resonance, CD couplings may be dynamically balanced.
Three Typical Torque Transducer Styles Used With CD Couplings Are:
1 - A shafted transducer that has a "fixed" mounting to the machine frame -- a Double- Flex CD Coupling is used on each end of the transducer in this application to minimize reaction loads.
2 - A shafted transducer that has a "floating" mount – the transducer becomes part of a floating shaft arrangement, with Single-Flex CD Couplings used to support the transducer at each end. The coupling selection for a "floating" mount transducer is often done in conjunction with Zero-Max Engineering to ensure the design avoids resonance at operating speeds for the test.
3 - A bearingless "flange-style" wireless torque transducer – a piloted rigid hub is used to support the transducer rotor ensuring a central axis for rotation and balance, while a Double-Flex CD Coupling is piloted to the opposite side of the rotor to compensate for any misalignment while keeping reaction loads to a minimum.
CD Couplings designed for Torque Transducer and Test Machinery applications may be custom designed to the specific needs of the test machine and can be adapted to shaft-mount or flange-mount transducers. Zero-Max offers engineering services and decades of experience to help ensure the ideal design. Popular options include in-house dynamic balancing capabilities and a complete selection of shaft tolerances and shaft connections including keyless, keyed, splined and other shaft designs.
The technology of the Composite Disc design and the application acumen of Zero-Max Engineers work together to provide a superior solution for the demanding needs of Torque Transducers and Test Machinery.
Locate your nearest sales representative, request a quote, or contact us for all your application requirements.