Zero-Max News
New Model 1100 Zero-Max Overhung Load Adapter Provides Load Support In Hydraulic Motors And Pumps
Sep 01, 2009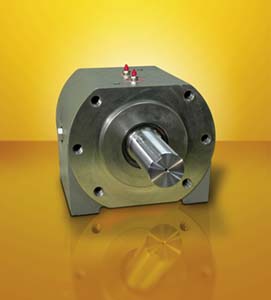 Plymouth, Minnesota: A new, heavy duty Model 1100 Overhung Load Adapter (OHLA®) has been introduced by Zero-Max for SAE "D" pump and motor applications requiring reliable load support.
Designed to eliminate premature hydraulic motor or pump bearing failure due to overhung radial and/or axial loads on motors or pump shafts, the Model 1100 OHLA provides a solid, permanent mounting surface while sealing out dirt and contamination in harsh environments.
Featuring heavy-duty, tapered roller bearings, the Model 1100 has a rugged housing made of cast iron and a shaft of 130,000 PSI stress-proof steel. It is designed for SAE "D" mount motor and pump applications operating at speeds up to 3,500 rpm with proper lubrication. Standard input bores include: 1-3/4 inch keyed or 13 tooth 8/16 spline. Output shaft keyed is 2.250 – 1/2 x 1/4 inch.
Designed for either face or foot mounting, this new OHLA model is available with many shaft options including splined, threaded, tapered and extended output shafts. Special input bores, splines and housing modifications are also available.
In addition to the new model 1100, Zero-Max offers a full range of models with standard input bores from 5/8 inch to 3-1/2 inch and in SAE A, B, C, D, E, and F mounts with 2 or 4 bolt mounting flanges.