Zero-Max News
Stainless Steel CD® Couplings Are Ideal For Corrosive Environments and Washdown Applications
Sep 01, 2009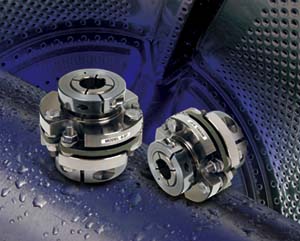 Plymouth, Minnesota: Zero-Max CD® couplings in single flex stainless steel models are ideal for use in systems where frequent washdowns are required or harsh environments could corrode the coupling components.
Made of 300 series stainless in sizes 30 to 52, these new stainless steel CD couplings are ideal for food, dairy and clean room applications. Designed with stainless steel clamp style or keyway style hubs, these couplings feature the unique, patented composite disc design of the original CD coupling, which has become a world-wide favorite of designers faced with system backlash and misalignment issues.
Through the disc's open arm design made of rugged composite material, the stainless steel CD coupling reacts to coupling forces with high torsional stiffness, and with ability to lessen reaction loads and to absorb and dampen shock and vibration.
By combining the best features found in both steel disc and elastomeric couplings, the CD coupling provides higher misalignment and greater torque capacity with more flexibility and torsional stiffness.
These new single flex stainless steel CD couplings are available with standard delivery in outside diameters of 3 inch (76.2 mm), 3.75 inch (95.3 mm), 4.50 inch (114 mm) and 5.25 inch (133 mm) with hubs of either clamp style or keyway style. Bore sizes are available in inch, millimeter, or combinations of each. Other sizes are available upon request but with additional delivery time.