Zero-Max News
Dispense Seed And Fertilizer For Precision Farming Applications – Zero-Max Designs, Manufactures And Assembles These Drives For Leading OEM's
Nov 05, 2012
Plymouth, Minnesota: Zero-Max designs, manufactures and assembles Custom Variable Speed Drives that meter and dispense seed and fertilizer guided by global positioning systems. Designed for the latest precision farming equipment, these custom drives provide accurate and repeatable settings to optimize the seeding and fertilizing process.
"Precision farming management relies on observing and responding to intra-field variations," reports Robert Mainz, Zero-Max sales manager. "The concept utilizes new technology such as geospatial tools coupled with innovative agricultural equipment that maximizes returns on inputs while preserving resources. Integrated into the newest agricultural equipment, our Custom Variable Speed Drives make precision farming more efficient and profitable."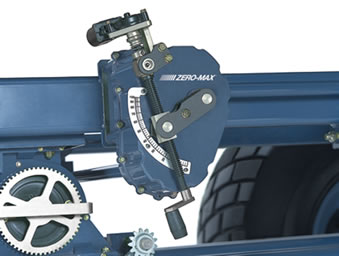 Designed to provide accurate and repeatable speed settings, Zero-Max Custom Variable Speed Drives are used as a prime mover connected to a motor, or as a secondary drive connected to a shaft in the machine's driveline. When used as a prime mover, the drive acts as a variable speed device. When used as a secondary drive, it becomes a variable ratio device. The drive permits slow or fast, small or large speed changes.
The variable speed feature allows for more accurate settings for the map-based feeding and seeding process. For example, the Zero-Max drives can be designed to accommodate varying terrain and soil conditions where real-time changes in fertilizer output are required. (Example: vary fertilizer application from 15 pounds per acre to 40 pounds per acre or any prescribed rate). For seeding, the drives are flexible, reliable and precise to help accommodate the narrow time-window for best seeding and for different application rates needed for seeding corn, wheat, oats and other crops.
Zero-Max Custom Variable Speed Drives are available with many design options. These include designs that handle different power inputs using chain, belt and couplings. Also available are compact and lightweight drive designs and special drive designs that mount easily in most positions.
Call 1-800-533-1731 for more information on Zero-Max Custom Variable Speed Drives. Outside US and Canada, call 763-546-4300.