Zero-Max News
Zero-Max Announces Its New RoHS Compliant ServoClass® Couplings – Zero Backlash And High Torsional Stiffness For Precision Servo Motor Positioning
Sep 01, 2009
Call 1-800-533-1731 For FREE BROCHURE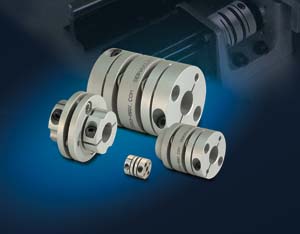 Plymouth, Minnesota: The next generation of ServoClass® Couplings has been introduced by Zero-Max. These new couplings feature zero backlash and even higher torsional stiffness required in today's demanding servo motor applications with high reverse loads and precision positioning requirements.
Manufactured of ROHS compliant materials containing no banned substances, these new ServoClass Couplings are designed with 304 stainless steel disc packs and 7075-T6 aluminum hubs and center members. Their unique design provides high torsional stiffness with low inertia to avoid system resonance in all types of servo systems.
ServoClass couplings handle system speeds up to 10,000 rpm and have a torque rating range from 4.43 in. lb. (0.5 Nm) to 530 in. lb. (60 Nm). A system designer can select from 16 sizes and from combinations of inch and metric hub bore sizes to meet exacting servo drive requirements. All models and sizes feature clamp style mounting hubs with recessed, corrosion resistant clamping bolts.
As the application cycle times become faster, the wind up in beam couplings or the fragile nature of the bellows couplings become more of a serious problem. The robust design of the Zero-Max ServoClass® Coupling performs reliably in precision, high speed servo applications.
Zero-Max ServoClass Couplings are ideal for use in most high precision applications including packaging machines, pick and place systems, printing machinery, machine tools and most systems utilizing servomotors.
An all new, FREE 8-page brochure is available that includes complete selection information for ordering and a CD ROM with the Zero-Max ServoClass Sizing and Selection software included. The CD ROM gives the designer the ServoClass catalog in PDF format, a comprehensive sizing and selection program and 3D CAD drawings for all of the couplings.

RoHS 2002/95 EC is a European Union directive restricting the use of certain hazardous substances in electrical and electronic equipment shipped into the EU as of July 1, 2006.