Zero-Max News
Zero-Max CD® Couplings With Aluminum Hubs Have Low Weight And Low Inertia – Ideal For Servo Motor Applications To Ensure Reliable Machine Operation
Sep 01, 2009
Call 1-800-533-1731 For FREE Brochure Or CD ROM With Sizing Software Included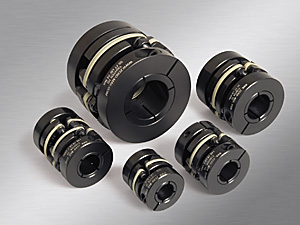 Plymouth, Minnesota: Zero-Max CD® couplings with aluminum hubs have low weight and low inertia making them an excellent choice for servo motor and other precision motion control applications. CD couplings provide the ideal combination of high torsional stiffness and high dynamic load capacity to ensure reliable machine operation.
"Today's designers are using more servo motors to improve machine speed and accuracy," reports Robert Mainz, Zero-Max Sales Manager. "As speeds increase, so does stress on mechanical components. The first mechanical component to see increased stress is the shaft coupling. Aluminum Composite Disc CD couplings handle the stress in these high speed, servo driven systems. They've proven it in countless applications."
Zero-Max CD couplings are designed so that the working part is made of a composite material. It withstands the punishment and stress of a servo motor – "everything a servo motor can dish out," reports users.
In comparison, bellows style couplings have high torsional stiffness specifications but are too brittle to withstand the punishment of high speed reversing applications. Beam style couplings also have limitations because they have relatively low torsional stiffness that will limit speed and machine accuracy.
For engineers who want their system designs to run faster and maintain accuracy, CD couplings have the ideal combination of high torsional stiffness and high dynamic load capacity. They address the many challenges of the latest servo motor designs providing precision positioning under high reverse loads and with reliable 24/7 operation.
Aluminum hub CD Single Flex models are available in clamp style hubs with or without keyways! The torque capacities range from 40 Nm to 1436 Nm and beyond with speed ratings from 4400 RPM to 17,000 RPM.
All CD couplings are environmentally friendly and are manufactured of RoHS* compliant materials.
* RoHS 2002/95 EC is a European Union directive restricting the use of certain hazardous substances in electrical and electronic equipment shipped into the EU as of July 1, 2006.