Zero-Max News
Three New Larger Sizes Added To Zero-Max ServoClass® Coupling Line – They Provide High Torsional Stiffness And Zero Backlash
Sep 01, 2009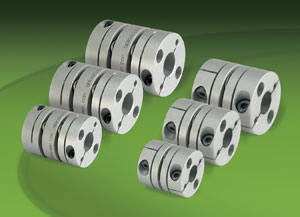 Plymouth, Minnesota: Three new sizes in both single and double flex models have been added to the Zero-Max ServoClass® coupling line. Providing even higher torsional stiffness than previous models, these ServoClass couplings are designed to handle high speed reversing loads and precise positioning requirements in today's demanding servomotor applications.
The new sizes handle bore diameters from 0.875 in. (20mm) to 1.378 in. (35mm) and operating torque from 3,937 to 9843 in. lbs (100 to 250 Nm). Manufactured of RoHS* compliant materials, these new ServoClass couplings are lightweight and are designed with 304 stainless steel disc packs and 7075-T6 aluminum hubs and center members. All models and sizes feature clamp style hubs with corrosion resistant socket head cap screws.
"Zero-Max ServoClass couplings are a better choice over beam or bellow style couplings," reports Robert Mainz, sales manager. "ServoClass couplings have an elegant, yet very robust design that performs reliably in 24/7 servomotor applications. When the application cycle becomes faster, they outperform beam couplings, which are subject to wind up, and bellows couplings, which have a fragile design."
A total of eleven sizes of standard off-the-shelf ServoClass couplings are now available with both inch and metric sizes. These couplings are ideal for clean room applications in Automation, Packaging, Semi-conductor Assembly, Laboratory Automation, Medical Equipment and virtually any product that uses Ball Screws and Servomotors.
* RoHS 2002/95 EC is a European Union directive restricting the use of certain hazardous substances in electrical and electronic equipment shipped into the EU as of July 1, 2006.