Zero-Max News
Zero-Max CD® Couplings Provide High Torque Capability While Handling High Reverse Loads In Merritt PMI Sliced Hardwood Veneer Production System
Sep 01, 2009
Lockport, New York: New model high speed veneer slicers from Merritt Plywood Machinery, Inc. produce up to 90 sheets per minute of high quality wood veneer in sheet sizes up to 4 meters long x 900 mm wide x 0.5 mm thick. These systems are operated two to three shifts per 24 hour day with virtually no downtime for maintenance due largely to their robust design which incorporates the latest servo drive technology.
| | |
| --- | --- |
| | |
| Merritt PMI vertical veneer slicer produces up to 90 sheets of high quality wood veneer per minute (slicing speed). | The veneer slicer utilizes Zero-Max CD® Couplings which provide motion control of high torque and high reverse loads in the system. |
"We evaluated different types of couplings for our MS-40 vertical veneer slicer and settled on the CD® coupling because of its superior torque load handling features," reported Mark Lorenc, design engineer. "With the rapid start/stop cycling of this system, motion control is really critical. The couplings absorb any backlash tendencies in the power train so there are no damaging forces imposed on the servo motor or other connected components in the system's drive train."
Three CD® couplings are used in the power train of the system which has a "T" shape configuration. At the base of the "T" is the servo motor power source. The output shaft of this servo motor connects to a Zero-Max CD coupling which connects to the input shaft of a right angle cone drive gear box which forms the top of the "T" shaped drive system. The two output shafts from the gearbox are connected to two additional CD couplings which connect to two lead screws. These lead screws drive the reciprocating knife carriage which slices the sheets of wood veneer.
| | |
| --- | --- |
| | |
| The Zero-Max CD® Coupling provides a rigid connection between servo motor and gearbox in the veneer slicer power train. | CD Coupling connects to leads screws which drive the reciprocating knife carriage. |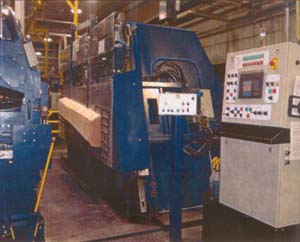 The programmable vertical veneer slicer allows for knife angle changing during slicing.
The goal for this drive train design is to keep motion under control with smooth, uninterrupted high speed operation. That requires top notch engineering as well as the best off-the-shelf components which this system has. There's ample power driving the system using a 40 HP servo motor and a special low backlash worm drive with an output torque rating of 3107 in/lbs at 6 arc/min.
CD® Couplings Chosen Because They Absorb High Torque Loads And Backlash
Lorenc said he and his engineers considered a variety of coupling alternatives for the drive train design. They decided on the Zero-Max CD® couplings because of their ability to handle high torque loads and dampen any backlash in the system from its reciprocating motion.
"We needed the most durable coupling we could find," reported Lorenc. Acceleration is fast and the change from clockwise to counter clockwise rotation can create problems for the system unless motion forces are controlled properly. The torque loads imposed on the components are handled very well because of the CD® coupling's unique torsional stiffness design."
The coupling has a patented open arm disc pack made of a rugged composite material which reacts to coupling forces with high torsional stiffness. The coupling has the ability to lessen reaction loads in heavy duty applications like Merritt PMI's while absorbing and dampening shock and vibration. The disc's composite material has a ply or fiber orientation to it, which gives it rigidity and also has damping effect on shock and noise.
| | |
| --- | --- |
| | |
| The CD® Coupling is a unique hybrid coupling combining the best features found in steel disc and elastomeric couplings. The key is the disc design. | The unique disc pack design, made of rugged composite material, reacts to coupling forces with high torsional stiffness, ability to lessen reaction loads and to absorb and dampen shock and vibration. |
Three CD® couplings are used in the system. Two Zero-Max 6A52QD models are used to connect the cross shaft and bevel gearbox. With a 5.25 inch (133 mm) diameter, these coupling sizes have continuous rated torque of 3,560 in/lb (402 Nm) and torsional stiffness of 26,049 in/lbs/deg (168,656 Nm/Rad) with a maximum HP of 5.65/100 RPM.
One Zero-Max 6A76QD model coupling connects the servo motor and the Cone Drive gearbox. It has a 7.75 inch (197 mm) diameter with rated torque of 15,600 in/lb (1,763 Nm) and torsional stiffness of 94,107 in/lbs/deg (609,303 Nm/Rad) and a maximum HP of 24.75/100 RPM.
Both couplings are the CD QD quick disconnect variety which means the hubs are machined to accept standard QD bushings and are easily assembled into the system. No alignment tools are needed.
Lorenc and his engineers also preferred the CD® couplings because they are designed to withstand harsh chemical and moisture environments with temperature extremes from -70° to +250°F (-57° to +121°C) so they handle the moisture rich environment in the Merritt PMI system without maintenance requirements or contamination problems. (Conventional steel disc and elastomeric couplings often fail when operating in harsh environments.)
In addition to hardwood veneer and plywood production systems, Zero-Max CD® couplings have application in many different servomotor systems including packaging, machine tool, printing, paper converting and special machinery.
For more information on Merritt PMI hardwood veneer and plywood production systems, call 716-434-5558. Email to merrittpmi@merrittpmi.com Website: www.merrittpmi.com Fax: 716-434-5575. Or write to Merritt PMI, 10 Simonds Street, Lockport, New York 14094-4111.