Applications for Zero-Max Motion Control Devices
CD® Coupling From Zero-Max Provides Rigid Connection Between Speed Reducer And Servo Motor – Provides Backlash Free Horizontal Pick And Place Motion In New Case Packer From Schneider Packaging Equipment Co.
Brewerton, New York: Designing the first of its kind, automatic, 5-panel wrap around case packer for juice cups with simultaneous stacking of three high incoming juice cup lanes required a new approach for Schneider Packaging Equipment Co., Inc. and its customer Jersey Juice, Inc. of Ewing, New Jersey.
Schneider Packaging Equipment has been building automatic case packers for 30 years. ISO 9001 certified, the company provides complete "end-of-line" solutions which include case and tray packing equipment, cartoning, conveying systems, and other systems integration along with robotic and gantry palletizing systems. These case packers are used by virtually every industry, from food beverage, replication, paper, and hardware to pharmaceuticals and office supplies. Schneider's latest models include Servo motor powered drive trains that automatically top load products with advanced pick-and-place technology. These systems utilize Servo driven technology for lateral and vertical movements and can pack a wide variety of products in single or multiple tier case configurations.
Jersey Juice specified a case packing system which would stack 4 ounce, ready-to-drink juice containers in quantities of 16 containers, 3 tiers high. The system was required to operate at a speed of 700 cups per minute. These ready-to-drink juice products are produced in large quantities for national markets. The company makes over 300 different juice concentrates and has been a pioneer in the non-refrigerated juice industry for over 30 years.
| | |
| --- | --- |
| | |
| Jersey Juice cups stacked and packaged 48 cups to a case in this new Servo driven case packer from Schneider Packaging Equipment Co., Inc. | Individual, four ounce juice containers measure 3 inches wide by 1.5 inches deep. |
TORQUE-RIGID ZERO-MAX CD® COUPLING PROTECTS SERVO DRIVE
While the case packer portion of the Jersey Juice system is standard, the accumulation of product and loading process is unique. Air cylinders provide the vertical motion to 3 independent heads, each holding a series of 16 vacuum cups. Each vacuum cup grips the top of a single juice container, positioning and stacking all 16 containers simultaneously into 3 tiers, after which the case flaps are folded and sealed.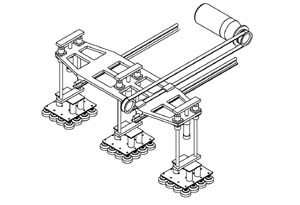 Servo motor coupled to a speed reducer and timing belt provides horizontal pick-and-place motion for the three synchronized head clusters.
The horizontal pick-and-place motion is closely synchronized with the vertical motions, which are both reciprocating and intermittent. Joseph Morak, design engineer for Schneider Packaging, said that the combination of both intermittent and reciprocating motions, especially at high speeds, can be very demanding on the system's drive train. We needed to position a coupling between the case packer Servo motor and the speed reducer/timing belt which would provide the the accurate pick-and-place motion and compensate for backlash and any offset between motor and speed reducer.
To make the connection between components and eliminate the possibility of damaging backlash from these pick-and-place systems was a delicate matter. Several coupling designs were considered, according to Morak.
"We looked at different bellows-type couplings, including those with steel, accordion type center members. We ruled them out because they were just too 'mushy' for our application. We needed torsional rigidity in our design connection in order to eliminate any possibility of backlash that could affect the Servo control. We had successful experience with the Zero-Max's CD® Coupling on earlier case packer designs and knew firsthand about its operating features," Morak reported.
Note location of the Zero-Max CD® coupling. Once assembled in the system, it requires no maintenance.
ZERO-MAX COUPLING IS EASY TO MAINTAIN
After testing several different size CD® Couplings, Schneider Packaging settled on the 6P26C Double Flex model. The system has a 2 hp motor which operates at speeds to 4000 rpm. It has a maximum torque of 31 in/lb torque with linear speeds to 4 ft/sec."The selected Zero-Max CD® Coupling was ideal for these operating parameters" said Morak. "Additionally, it's a very durable coupling, has no maintenance requirements once installed, and is resistant in washdown environments."
| | |
| --- | --- |
| | |
| Zero-Max CD® Double Flex couplings handle misalignment up to 3∞ angular, 0.137° parallel and 0.500° axial, depending on the size. They are available in 1.85° to 12° diameters and handle up to 47,200 inch pounds of torque. | The CD® coupling transmits torque between shaft coupling hubs similar to any conventional coupling. Yet it provides greater flexibility, longer life, and damps shock and vibration through its unique open arm design and use of highly durable composite disc material. |
According to Isaac Kaminer, engineering manager for Zero-Max, "Even though the CD® Coupling is torque rigid, it has sufficient flexibility as a result of its double-flex disc design. This double-flex design provides the needed misalignment capacity which reduces reaction loads and contributes to extended operating life of the connected components."
Additional features of the case packer include: hot melt glue system, touchscreen visual displays, PLC controls, NEMA 4X electricals, and meets all UL/CSA standards.
Designed for a wide variety of applications, the CD® Coupling has composite disc packs, machined hubs with keyway bores, or keyless clamp-type mounting hubs for easy installation. The patented design provides high torsional stiffness and low inertia which helps avoid system resonance. The coupling design has flexibility to accommodate higher angular and axial misalignments and damp vibration so it runs very smooth.

Locate your nearest sales representative, request a quote, or contact us for all your application requirements.