Applications for Zero-Max Motion Control Devices
Latest Rotary Fabricating And Die Cutting Systems By Pace Converting Equipment Co., Inc. Utilize CD Couplings From Zero-Max – They Eliminate Backlash In System Drive Train
Cleveland, Ohio: High speed rotary fabricating and die cutting machinery employ phase adjusting differentials connected by means of backlash-free CD® couplings from Zero-Max. The couplings damp out any backlash or harmonic tendencies that might occur in the system's series of fabricating and die cutting stations with the result that the system runs smooth and trouble-free, even during advance and retard modes used to fine-tune the system's registration.
Pace Converting Equipment Co., Inc. in Cleveland, Ohio, specializes in the design and manufacture of high speed, narrow-web systems that laminate, die cut, emboss, slit and sheet at up to 600 feet per minute, depending on the material and thickness. Web fed materials include films, paper, paperboard, non-wovens, rubber and foam, which, when processed, become multiple component fabricated parts for the automotive, medical, gasket and specialty markets.
Included among the more famous product brands fabricated by these Pace systems are nasal strips worn on the nose of athletes and gauze surgical bandages used in hospitals. During fabrication, web material for these products feed through the system with a high degree of accuracy and smooth motion. The web material must align accurately at each of six or more stations where the laminate, die cut, emboss, slit and sheeting operations are performed.
| | |
| --- | --- |
| | |
| Pace Converting Equipment Co., Inc. systems operate at up to 600 feet per minute. Material is laminated, die cut, embossed, slit and sheeted in a continuous web. | Steel rollers align web material that is under tension as it feeds from station to station. |
Torque-Rigid Zero-Max CD® Coupling Dampens Vibration
"We evaluated bellows type couplings with steel, accordion-type center members, but found they didn't have the backlash free features we needed in our systems," reports Michael Chrystyna, Vice President of Pace Converting. "Registration is really critical. Because the systems process between 50 and 600 feet of web material a minute - some as thick as .375 inch - a shudder can occur when a die and anvil meet at one or more of the stations. This can create a harmonic effect through the system creating registration problems."
"After considerable testing, we chose the Zero-Max CD coupling because it has an ability to absorb and dampen any harmonic vibration and backlash in these systems," reports Chrystyna. "Aligned in a series between the phase adjusting differentials, the couplings transmit torque smoothly so that each station performs its operation in-register and synchronized with the other stations in the system."
Two Zero-Max CD® Couplings are connected to input and output shafts of each phase adjusting differential.
The CD coupling proved ideal for this application because it combines the best features found in both steel disc and elastomeric couplings. It has a patented open arm disc pack design made from rugged composite material that reacts to coupling forces with high torsional stiffness, with the ability to lessen reaction loads and to absorb and dampen shock and vibration.
| | |
| --- | --- |
| | |
| Zero-Max Single Flex CD® Coupling | The CD® Coupling provides greater flexibility, longer life, and damps shock and vibration through its unique open arm design with the use of a highly durable composite disc material. |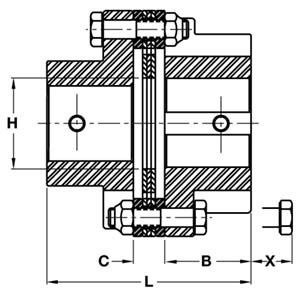 CD® Couplings can handle maximum misalignments up to 3° angular, 0.137 in. parallel and 0.500 in. axial based on the largest single flex size.
Phasing And System Synchronization Aided By Coupling
The CD coupling also facilitates occasional registration adjustment while operating. This is done by manually turning a switch or full electronic registration control system, which momentarily retards or advances and realigns the web material to the die cut. The system never stops for these adjustments, but merely increases or decreases in speed. This movement is absorbed by the CD coupling.
Powered by a 10 horsepower variable speed motor with a 4 to 1 speed reduction (some systems require 9 to 1 reduction), the CD couplings operate at on average at 300 rpm. Single Flex CD coupling model 6A30's are used in all but one of the stations where a Double Flex model 6P30 is utilized to provide for extra misalignment. Eight to ten of the couplings are used in each system, depending on the number of workstations.
Couplings Are Easy To Assemble In The System
Chrystyna said the CD couplings are easier to assemble than the bellows style couplings that were tested. "The CD couplings have greater misalignment capability so it's not necessary to align them with lasers like other couplings we tested," said Chrystyna. "Also, the composite disc packs in the couplings are very reliable and require no maintenance. We've been using these couplings for over seven years in more than 120 systems and haven't had a single failure."