Applications for Zero-Max Motion Control Devices
Zero-Max Composite Disc Coupling Provides Increased Torque Requirements to M1A2 Abrams Main Battle Tank New Air Filtration System
Minneapolis, Minnesota: The M1A1 Abrams tanks led the massive armored thrust into Iraq in 1991. The outcome proved that this General Dynamics produced tank was not only superior to its adversaries but very adaptable to difficult desert operating conditions.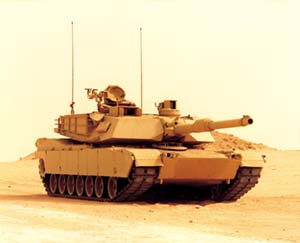 M1A2 Abrams Main Battle Tank.
Not a single tank was lost to enemy action or breakdown in Desert Storm, according to published reports. Just four tanks were damaged in combat but were repairable. The tank's engine components and other operating systems withstood the hot, sand-clogging, desert conditions without a major flaw. Nevertheless, lessons were learned from the conflict that resulted in improved operating systems being designed into the successor M1A2 tank model.
Air Filtration System Enhancement Has High Torque Requirements Necessitating A Customized Coupling
The Abrams tank employs an air-cooled turbine engine which allows it to hit 41.5 miles per hour battle-loaded at 69 tons. The torsion-bar suspension, rotary shock absorbers and extra long tracks guarantee a smooth ride and an ability to abandon highways and roll across tricky terrain like the desert at 35 miles-an-hour. It does all this, according to one published report, "without overheating or shaking the guts out of itself or crew."
To supply the turbine engine's air, a scavenged air cleaner system is employed. After Desert Storm, General Dynamics decided to widen the service life of this air cleaner system to reduce in-field maintenance requirements. Improving it meant increasing the scavenge fan's operating torque, which imposed higher operating loads on a connecting coupling between the oil cooler fan on one end and the scavenger fan on the other.
"Extending the service life of the air filter in the air cleaner system became a major objective," reports Lee Smathers, engineering specialist for the Mechanical Systems Group of General Dynamics Land Systems, Sterling Heights, Michigan. "We wanted to enhance filtration efficiency to widen the time window between filter cleanings required by the crew. This necessitated modifications to the blower system, which elevated the system torque. The floating shaft style coupling which connected the oil cooler fan and the air induction fan did the job well enough in the original system design but came up short under the new higher torque requirements."
"We had the option to use a larger diameter, torsionally soft coupling to handle the increased torque requirements," reported Smathers, "but a larger coupling would require major changes to the duct-work of the entire cooling system including potentially expensive changes to both right angle gear box assemblies. We had just so much space to work within and we wanted to make the enhancement without impacting other components."
Induction scavenge system blower is located at the rear of tank's engine compartment. The connecting coupling assembly in the system has two hubs, two CD® disk packs and a floating shaft.
To get higher torque performance with the angular and parallel offset requirements in a comparable size coupling, Smathers and his design team did a survey of available components and technology in the marketplace. "We looked for a solution that was commercially available so we wouldn't have to reinvent the wheel," Smathers said. "And since the new design was fleet-wide involving as many as 6000 new M1A2 tanks and retrofits to possibly even more M1A1 models, we preferred a domestic source which could handle our volume requirements and just-in-time needs."
Smathers' coupling study led him and his team to Zero-Max and its CD® Composite Disc Coupling. This particular coupling design, among a broad line offered by Zero-Max, had proven its worth in difficult operating conditions such as those experienced with mining and construction equipment. Isaac Kaminer, Zero-Max design engineer, recommended the CD® design because of its torsional stiffness and high misalignment capabilities. "Our CD® coupling provides extra stiffness necessary to avoid system resonance without giving up misalignment capacity. We believed from the start of the project that we would be able to supply General Dynamics with a CD® coupling design and size which would fit the available work envelope and handle the torque requirements at speeds to 5600 rpm."
Zero-Max CD® Floating Shaft Coupling employs a patented disc pack (actual size used in M1A2 Abrams Tank) consisting of three 7 ply discs. A disc assembly is bolted to the hub and shaft at each end of the connecting assembly.
What makes the Zero-Max CD® coupling unique is that it combines the best features found in both steel disc and elastomeric couplings. It's patented and has a unique, open arm disc design made from a rugged composite material. These two features give it the high misalignment capacity of many elastomeric couplings but with higher torsional stiffness. Compared to steel disc couplings, the CD® Coupling offers superior damping and isolation of shock and vibrating loads, a very important consideration for the M1A2 tank's scavenge fan drive system.
The recommended Zero-Max CD® Coupling was a customized version of its Model 22 CD® with a 2 1/4 in. overall diameter, a 7/8 in. bore and a disc pack at each end of the coupling. Each disc pack had three 7ply discs.
To achieve the desired torsional, radial and axial stiffness of the disc pack, Zero-Max engineers did extensive finite element analysis. Different disc thicknesses were evaluated, settling on 7 ply over the standard 5 ply thickness. The discs themselves were left unfinished to facilitate required decontamination washdowns. Nearly two years of testing and evaluation was done by both Zero-Max and General Dynamics, including tests in simulated battlefield conditions.
| | |
| --- | --- |
| | |
| Coupling disc performance for stress versus tensile torque, angular and axial displacement. | Finite element analysis of coupling disk shows stress values at all locations of the disk. |
Among the stringent requirements of the coupling was the ability to withstand operating temperature extremes of -60°F to +125°F with even higher temperatures in the engine compartment area. These environmental requirements were compounded by the decontamination requirement should the tank experience nuclear, biological or chemical weapon exposure. All coupling components had to withstand meticulous washdowns using the caustic cleaning agent DS2.
For these tests, Zero-Max supplied General Dynamics with completed coupling assemblies consisting of disc packs, shafts and hubs. Once an acceptable design was arrived at for the overall assembly, Zero-Max provided only the disc packs with General Dynamics machining shaft and hub components.
"In the field for over a year, the new coupling enhancement with the Zero-Max CD® composite disc pack is performing extremely well," reports Smathers.
For more information on this application, contact: Isaac Kaminer Karl G. Oskoian http//www.oskoian@gdls.com
CD® Coupling is a registered trademark of Zero-Max, Inc.