Applications for Zero-Max Motion Control Devices
OHLA Overhung Load Adaptors Improve Power Transmission Performance In Roadtec Cold Planer Used For Road Paving Operations
Chatanooga, Tennessee: Repaving asphalt streets and highways requires heavy equipment including cold planers which cut 8 feet wide by 12 inch deep swaths in old asphalt surfaces in order to remove them. These cold planer systems work at speeds up to 4 feet a minute cutting, granulating and conveying the loose asphalt into waiting trucks for recycling. By necessity, the power transmission systems in these cold planers are ruggedly designed to handle large amounts of asphalt and to operate for long periods without service or maintenance.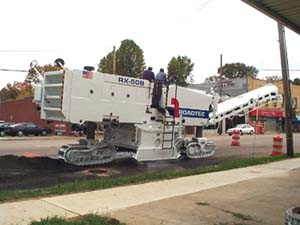 Roadtec cold planer cuts 8 ft x 12 in x 4 ft of old asphalt a minute for recycling prior to repaving.
Roadtec, An Astec Company, is a world leading manufacturer of pavement placement equipment for over 30 years. Used for asphalt removal, its cold planers are designed to provide the optimum balance between horsepower, production and maneuverability. These are versatile machines capable of cutting depths to 12 in (30cm) and widths 6-1/2 in (2m) to over 8 ft (2.5m). They also provide side-cutting operations and have bi-directional operation capabilities to achieve down cutting in the reverse direction of travel.
Roadtec's largest cold planer, the RX 50B, operates on three D-4 size tracks providing an 8 ft 2 in (2.5m) cutting radius with crab steer, front-track steer and rear-track steer. It has a two stage covered 34 in (86.4 cm) wide front load-out conveyor with 50° swing to either side providing high volume loading capacity.
Power from the main shaft of the 600 HP Caterpillar diesel engine travels into a hydraulic clutch and then to the grinding drum by belt drive. A second pump on the same shaft provides the hydraulics for propulsion.
To ensure smooth, trouble free operation of the auxiliary hydraulic systems in these cold planers, two Overhung Load Adaptors (OHLA's) from Zero-Max are employed, one mounted on each side of the engine. The larger OHLA (800 series) drives the pump that provides hydraulic pressure to operate the components that move the ground asphalt to the conveyor. The smaller OHLA (600 series) drives a pump that provides hydraulic pressure for other system operations such as steering and discharge conveyors.
| | |
| --- | --- |
| | |
| Hydraulic pump motor is connected to Zero-Max Overhung Load Adaptors. | Overhung Load Adaptor mounting configuration, one on each side of engine. |
"Without the Overhung Load Adaptors, too much stress was transmitted to the pump's bearings which could result in premature and costly pump failure," reports Chris McSharry, design engineer for Roadtec. "We'd heard about the Overhung Load Adaptors and did a bearing life scenario for our system using Zero-Max's estimated working life formula from their on-line catalog. The numbers looked good plus we liked the idea of using a proven off-the-shelf module rather than trying to design a bearing support setup or our own from scratch which would have been more expensive and time consuming."
The drive setup McSharry and the Roadtec engineers devised positions the OHLA units at 180° from each other. This balances the force applied to the front of the engine's crankshaft. The model 600 has two V-belts on one pulley connecting it from the engine while the model 800 has three V-belts on one pulley connecting it to the engine. By choosing just the OHLA size needed to do the job, only essential space and weight was utilized in the engine compartment.
Zero-Max Overhung Load Adaptors (OHLA's) are the ideal "off the shelf" device for increasing motor durability and life. The ones used in the Roadtec system have a special oil drain port to facilitate lubrication.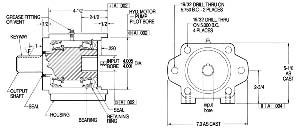 The OHLA 600 used in Roadtec's system has an SAE-B face mount and weighs 30 lbs and the 800 has an SAE-C face mount and weighs 55 lbs. Both sizes feature rugged housings made from 25,000 PSI tensile cast iron with shafts of 130,000 PSI stress-proof steel. Both have heavy-duty tapered roller bearings and operate the Roadtec system at a 1-to-1 ratio at speeds up to 2100 rpm.
"The OHLA's give us a solid, permanent mounting surface, which aids in the overall stability of the system," reported McSharry. "By eliminating the stress and overhung loading, both the pump motor and bearings perform nicely without any threat of failure for either. The entire drive system runs freer with the OHLA's and with less power utilized. These cold planers put out a lot of power so the added stability from the OHLA's really promote a smoother operating system."

For more information on Roadtec road building equipment, call 423-265-0600. Or write to Roadtec, Inc., 800 Manufacturers Road, Chattanooga, TN 37405-7515. Website: www.roadtec.com.