Applications for Zero-Max Motion Control Devices
Zero-Max CD Couplings Provide Needed Misalignment Capability In New Tri-Turn Multi-Spindle Screw Machine Operating At 5000 RPM – Heat And Vibration Eliminated
Cleveland, Ohio: In designing and building its new three spindle turning machine, Tri-Turn Technologies, Inc. created a true CNC multi-spindle screw machine, but without cams or change gears.
Called the Tri-Turn 383, this three spindle machine design helps fill the gap between one and two spindle CNC lathes and CNC multi-spindle screw machines. The Tri-Turn 383 has up to three main 29 HP, 5000 RPM spindles with a 1.5-inch bar capacity. Each bar can be fed out from the main spindle as machining takes place, simulating the operation of a Swiss screw machine – machining is kept close to the spindle to minimize deflection and maintain optimum machining results.
The Tri-Turn 383 has 3 main spindles with two axis contouring available for each spindle position. There also can be 3 true counter spindles, each with independent speed and feed control.
To connect each drive assembly with a corresponding counter-spindle assembly, a Zero-Max CD model 6A45C Coupling is employed. Each counter spindle connects via the coupling to a splined shaft, which connects to a 7-1/2 HP spindle motor powering each counter-spindle.
Tri-Turn Multispindle screw machine utilizes Zero-Max CD couplings to connect drive and spindle assembly to a 7-1/2 HP spindle motor. The CD coupling (below) has high misalignment capability and dampens any vibration tendency in the power train. For photo purpose, the two couplings pictured are connected at one end only.
"We went to the CD coupling to eliminate vibration and heat that developed in the spindle assembly at high speeds," reports Ken Sommers, Engineering Manager for Tri-Turn Technologies. "In our original design, two steel collars and an intermediate member were fastened together to connect the drive with the spindle assembly. Aligning these components was difficult and put extra stress on the motor bearings. The connection also was too rigid and vibration developed, especially at higher speeds. There was no misalignment capability with this kind of connection, and because of the rigidity, the resulting vibration generated heat around the motors, which could compromise the system's operation. So we looked for a better way to connect the drive and spindle assembly."
CD Composite Disc Coupling Dampens Vibration
Sommers said he and his engineers considered a variety of coupling alternatives. They decided on the Zero-Max CD design because they heard about the coupling's high misalignment capability, its ability to dampen vibration and its overall durability. They needed a coupling with these features and one that would handle the machine's quick acceleration/deceleration and the torque loads imposed by the connected components.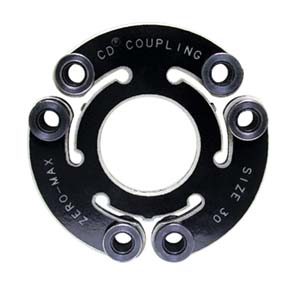 Composite disk is patented. It is made of rugged composite material, reacts to coupling forces with high torsional stiffness, and has ability to lessen reaction loads and to absorb and dampen shock and vibration.
The coupling itself is a standard 6A45C model with clamp style hubs. It is 4.50 inch (114.3 mm) diameter with a 1.62 inch (42 mm) keyway bore. It has torsional stiffness of 19,138 in-lbs/Deg (123,909 Nm/Rad) and handles speeds of 5600 RPM.
The big contribution to the Tri-Turn's drive system is the coupling's higher misalignment capability. The couplings patented open arm disc pack design is made of composite material. This open arm design, together with its composite material, provides the higher misalignment capacity found in many elastomeric couplings but with a greater torsional stiffness, vibration dampening and with zero backlash. In most applications including Tri-Turn's, the 6A45C single flex CD coupling allows for .4 mm parallel misalignment and up to 3° angular misalignment.
Six bolt disc pack in single flex coupling model.
"The improvement with the CD coupling was evident as soon as we installed it," reported Sommers. "With its clamp style hubs, installation was just a matter of inserting the coupling and tightening up both ends. No time consuming alignment of the connected elements with special tools such as lasers was needed. Upon startup, there was no vibration at all. The system ran smooth and much quieter than the original design and there was no excessive heat build-up like before."
The CD Coupling promotes smooth operation, which is imperative to the system's accuracy. Each spindle can be opposed by a counter spindle that allows the part to be transferred back and forth to work both ends of the part. The counter spindle can also serve as a tailstock for long parts, act as a live tool spindle with high (7.4) horsepower and permit a coupling of the live tool RPM by counter rotation.
Each spindle can be served by a 12 station turret with up to 6 live tools. This permits the Tri-Turn 383 to be equipped with up to 40 tools at any given time. The large tooling capacity enables the machine to hold the tooling required for several jobs to expedite changing over from one job to another. Also, the machine is designed to use standard, quick-change, lathe tooling to facilitate tool changes and reduce setup times.
| | |
| --- | --- |
| | |
| The Tri-Turn three-spindle CNC screw machine from Tri-Turn Technologies bridges the gap between one- and two-spindle CNC lathes and CNC multi-spindle screw machines. | Each of Tri-Turn's three main spindles is directly opposed by a counter spindle and is served by a live turret, providing a total capacity of 40 turning and rotary tools. |
In addition to machine tools like the Tri-Turn 383, Zero-Max CD couplings have application in many different servomotor systems including in packaging, printing, paper converting and special machinery applications.